Powerserve UK Relocation
We are pleased to announce our relocation to new improved premises. Incorporating enhanced facilities to meet all your engineering needs.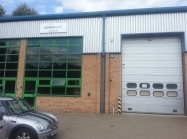 1st July 2015
We have now relocated to our new facilities adjacent to the river Stort on the mead park industrial estate. Mead Park is a modern 290,000 sq.ft. (26,938 sq.m) industrial scheme with dedicated 24 hour staffed security. Mead Park is set within Harlow's main trade area and within easy reach of both the M11 and A10 and Stanstead airport. For more information on mead park please visit http://www.meadparkharlow.co.uk/ 
The area is a thriving commercial centre which is home to a host of multinational blue chip companies and many regional and local businesses that benefit from the town's large workforce.
Mead park is also located adjacent to Templefields Harlow Enterprise Zone which is one of 24 locations across the country, designated by the UK Government, to provide incentives for investment. For more information on Harlow Enterprise zones please visit http://harlowez.org.uk/